Laser hair removal was performed experimentally for about 20 years before it became commercially available in the mid 1990s. One of the first published articles describing laser hair removal was authored by the group at Massachusetts General Hospital in 1998.[1][2] The efficacy of laser hair removal is now generally accepted in the dermatology community, and laser hair removal is widely practiced in clinics, and even in homes use devices designed and priced for consumer self-treatment. Many reviews of laser hair removal methods safety, and efficacy have been published in the dermatology literature.[3]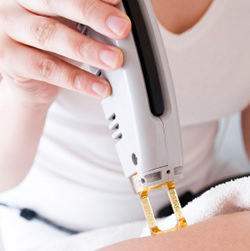 References
Dierickx, C.C., et al., Permanent hair removal by normal-mode ruby laser. Arch Dermatol, 1998. 134(7): p. 837-42.
Gold MH. Lasers and light sources for the removal of unwanted hair. Clin Dermatol. 2007 Sep-Oct;25(5):443-53.
Eremia, S., et al., Laser hair removal: long-term results with a 755 nm alexandrite laser. Dermatol Surg, 2001. 27(11): p. 920-4.